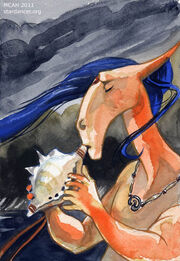 For information about the Tsipia-aliens.
Description
Edit
Appearance
Edit
Physiology
Edit
The Tsipia-Alien reproductive cycle has evolved as a three-step process, requiring three genders:
a female1, who produce unfertilized eggs
a male, to whom eggs are transferred for fertilization through a process called "kissing"
a female2, who incubates the eggs until they are ready for nesting
Pronunciation
Edit
Social Structure
Edit
Important Philosophical Concepts
Edit
Crime and Punishment
Edit
Naming Conventions
Edit
Notable Characters
Edit
Related Fiction
Edit
Meta-Conversations
Edit
Ad blocker interference detected!
Wikia is a free-to-use site that makes money from advertising. We have a modified experience for viewers using ad blockers

Wikia is not accessible if you've made further modifications. Remove the custom ad blocker rule(s) and the page will load as expected.