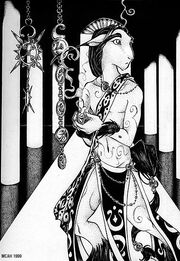 The Trinity is a Jokka religion separate from the Trifold.
General Description
Edit
The Trifold and the Trinity both believe in the sanctity of the three sexes: anadi, emodo, eperu, but the Trinity holds that the three sexes are each associated with a heavenly body, and it is by kinship with them that we arrive at our fullness of self.
The three aspects of the Trinity are Void, which corresponds to emodo; World, which corresponds to eperu; and Brightness, which corresponds to anadi.
The Trinity are worshipped in temples. Dardenil was the first town to build a temple to honor the gods.
Related Fiction
Edit
Ad blocker interference detected!
Wikia is a free-to-use site that makes money from advertising. We have a modified experience for viewers using ad blockers

Wikia is not accessible if you've made further modifications. Remove the custom ad blocker rule(s) and the page will load as expected.