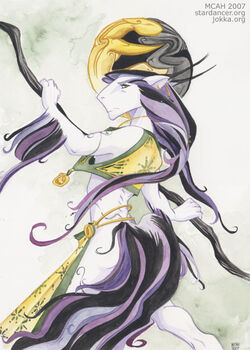 Thenet Reña-eperu is the narrator of the first book of the Stone Moon trilogy,
The Worth of a Shell,
a novel of the
Jokka
. It returns again to finish the trilogy in
A Bloom in the North
. It is
eperu
, or neuter.
General Description
Edit
Physical Description
Edit
Thenet is described as having flat white skin, uneven black spirals of black on the skin that is exposed, an uninflected black mane and tail, and clear, yellow-green eyes that Jokka call 'beast eyes', the ones that only aspire to flame-bright amber.
At the beginning of the novel, Thenet is Anadi-guardian in the House Mated. When the House's most prized anadi is lost to the mind death, Thenet is cast out and rescued by Dlane Ashoi-anadi. They are co-founders of the House Reña.
Related Fiction
Edit
Ad blocker interference detected!
Wikia is a free-to-use site that makes money from advertising. We have a modified experience for viewers using ad blockers

Wikia is not accessible if you've made further modifications. Remove the custom ad blocker rule(s) and the page will load as expected.