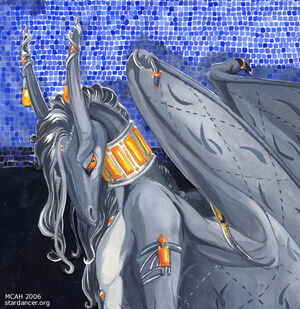 The Slave Queen appeared in the novel
Even the Wingless
, set in the universe of the
Pelted
. She is one of the
Chatcaava
, one of the rare females with wings.
Physical Description
Edit
A Chatcaavan of average height, the Slave Queen is dark gray fading to pearl gray ventrals, with orange eyes and wings perforated with a lace pattern, scalloped edges and with crossed imperial thorn cut-outs.
History Prior to Even the WinglessEdit
Her sire was the holder of a planetary estate, and one of the sons of the previous Emperor, and was executed by the current Emperor when he took power. All the other Chatcaava with imperial blood were slain, leaving the Queen the sole survivor of that bloodline/family.
Current Events
Edit
Ad blocker interference detected!
Wikia is a free-to-use site that makes money from advertising. We have a modified experience for viewers using ad blockers

Wikia is not accessible if you've made further modifications. Remove the custom ad blocker rule(s) and the page will load as expected.