Tsevet was the first
Ai-Naidari
servant of Shame. He is also the only Servant of Shame aside from
Kor Nai'Nerillin-osulkedi
who went through all the
Corrections
available to those who serve. His short name is Tset.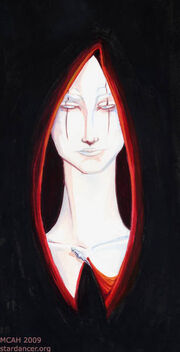 There are some notes here about his companions, but I'm not sure if I have them right down. The twins, Arasha and Ronan; the female Arasha is a physician and the male is a priest of Saresh. Then there is a priestess of Shemena, but I'm not sure about her. There's a note here that says "Qisme" and "Inari" but I'm not sure which is the name.
Ad blocker interference detected!
Wikia is a free-to-use site that makes money from advertising. We have a modified experience for viewers using ad blockers

Wikia is not accessible if you've made further modifications. Remove the custom ad blocker rule(s) and the page will load as expected.