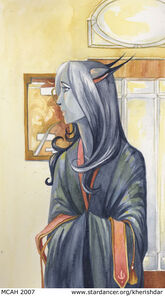 There is one Exception in every generation of Ai-Naidar. They are without caste-rank, and thus outside of society, because of that they are able to criticize it. Generally the work closely with the Emperor to identify rules that may be changed to make society run more smoothly. One of the responsibilities of the Exception is to edit the Book of Exceptions.
Rules of Behavior
Edit
The Exception does not require an appointment to visit Thirukedi.
Notable Exceptions
Edit
The current Exception was named by Shame when she was fifteen years old and brought to him by her uncle for Correction.
Ad blocker interference detected!
Wikia is a free-to-use site that makes money from advertising. We have a modified experience for viewers using ad blockers

Wikia is not accessible if you've made further modifications. Remove the custom ad blocker rule(s) and the page will load as expected.