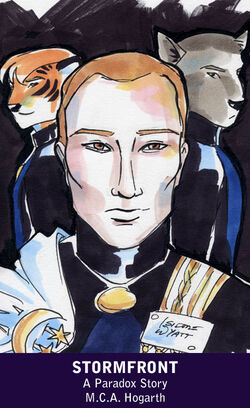 "Stormfront" is a short story set in
Alliance
space in the
Paradox
universe. It was originally published in PseudoSF in 2004.
Captain Isidore Wyatt, new transfer to the Alliance Fleet from the Terran Space Navy, is still getting used to having engineered aliens for officers when he's called to investigate a possible pirate vessel. Except not everything is what it seems, and these pirates have ambitions above and beyond the norm....
Notable Characters
Edit
Isidore Wyatt, Captain
Branagh Mariengard, Second Commander
Faisal, Commander
Lindsey Majors, Lieutenant
Walthers (find out his first name), Lieutenant
Purchase Details
Edit
Stormfront can be read for free in the PseudoSF archives, and is also available as a free e-book.
| Format | Pgs/Size | Cost | ISBN/ASIN |
| --- | --- | --- | --- |
| E-book (SW/Amazon/B&N) | 100kb | Free | B00480P3UK |
Ad blocker interference detected!
Wikia is a free-to-use site that makes money from advertising. We have a modified experience for viewers using ad blockers

Wikia is not accessible if you've made further modifications. Remove the custom ad blocker rule(s) and the page will load as expected.