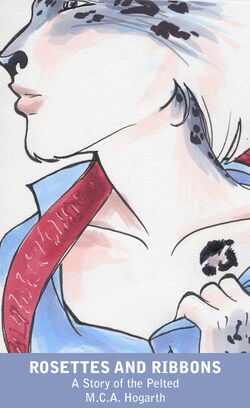 Rosettes and Ribbons
is a novella set in the
Paradox Universe
.
R&R was chosen for the Best in Show anthology, later reprinted as Furry! The Best Anthropomorphic Fiction.
Pelipenele is on her first trip as Dr. Edisse's xenoanthropology intern, to the planet Aren, to a dig-site being unearthed by the passionate and intimidating Aera. Little does she know that her dull, easy translation assignment is going to be nothing of the sort... This story was chosen for the "Best in Show" anthology.
Notable Characters
Edit
Minor Characters
Edit
Peli's big sister Doni
Databank access
Edit
U-banks yeald step by step video
Also art within the story: the stone strips, the statue made of Jaen, the ribbons
Also a string quartet playing music of a popular Hinichi composer
Mythology
Edit
Changed mythology study: Edera'yn now considered
'fool-lover' and comic relief.
Seersa gods are the four sisters
Food and Drink
Edit
Nut and carelberry pastries
Neriss punch
Species mentioned
Edit
Naysha
Stirlanders (spelling?)
Phoenix
Human
Tam-illee
Hinichi
Purchase Details
Edit
Rosettes and Ribbons is available as a stand-alone e-book, and is also included in the collection Claws and Starships.
| Format | Pgs/Size | Cost | ISBN/ASIN |
| --- | --- | --- | --- |
| E-book (SW/Amazon) | 68kb | $0.99 | B004BA5FKU |
Ad blocker interference detected!
Wikia is a free-to-use site that makes money from advertising. We have a modified experience for viewers using ad blockers

Wikia is not accessible if you've made further modifications. Remove the custom ad blocker rule(s) and the page will load as expected.