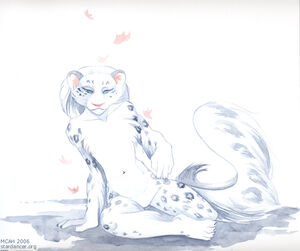 The native Shraevenese guide in Flight of the Godkin Griffin.
Description
Edit
A hillswoman, a snow leopard, heavy jaw, a lot of fur, no proper head-hair at all but rather a wild white mane smudged with spots. Sea-green eyes, whiskers. Has a husky alto.
Speaks seven Shraevenese languages, understands two more, and also speaks the Godkindred's tongue.
Ad blocker interference detected!
Wikia is a free-to-use site that makes money from advertising. We have a modified experience for viewers using ad blockers

Wikia is not accessible if you've made further modifications. Remove the custom ad blocker rule(s) and the page will load as expected.