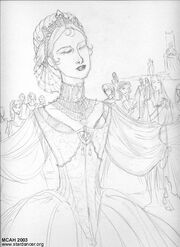 Liolesa is the third queen of the
Eldritch since
Settlement.
General Description
Edit
Liolesa is a grand meddler; well for the Eldritch that she is, for that's the only thing that will save them by the time she takes power. A long-term thinker, an experimenter, curious and bold by temperament, a schemer and master manipulator and ruthless in pursuit of her goal: the survival of her species.
I have forgotten her eye color. I have noted here that she is an alto.
I have a perfume listed here: ambergris and thorn marten musk.
Special Talents
Edit
Note here about her tapestry talent.
At some point Liolesa is going to tell me the story of how she first got offworld, beyond me knowing it had something to do with her cousin's infertility. That happens after she meets her mortal lover.
Ad blocker interference detected!
Wikia is a free-to-use site that makes money from advertising. We have a modified experience for viewers using ad blockers

Wikia is not accessible if you've made further modifications. Remove the custom ad blocker rule(s) and the page will load as expected.