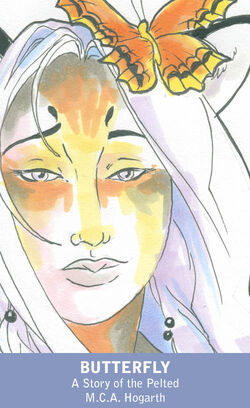 "Butterfly" is a story story set in the
Pelted
's
Paradox
universe. It was originally published in Anthrolations #1 and reprinted as an e-book on October 25, 2010.
Not to be confused with any story about the dead wife of one of the Eldritch. Her nickname was Butterfly. Need disambugation?
Long ago, Jared and Geneviive's father committed a great injustice on their third sibling, the Hinichi Noelle. His death frees them to summon her home from her long exile. But will she want to stay after being abandoned?
Notable Characters
Edit
Purchase Details
Edit
"Butterfly" is available for purchase as an e-book, and is also included in the Pelted short story collection Claws and Starships.
| Format | Pgs/Size | Cost | ISBN/ASIN |
| --- | --- | --- | --- |
| E-book (SW/Amazon/B&N) | 47kb | $0.99 | B0049B2FZ4 |
Ad blocker interference detected!
Wikia is a free-to-use site that makes money from advertising. We have a modified experience for viewers using ad blockers

Wikia is not accessible if you've made further modifications. Remove the custom ad blocker rule(s) and the page will load as expected.