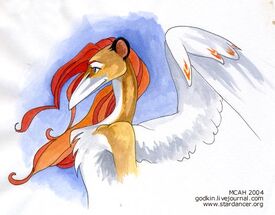 Angharad
Godkin
of the Sunblood Cliffs is a forty-eight year-old griffin in the army of the
Godkindred Kingdom
, a Mistress Commander.
General Description
Edit
Angharad is a griffin army commander, who at the time of Flight of the Godkin Griffin had served thirty-four years ("since I took up a spear to drive away the raiders from the slopes of the Firerake Mountains under Captain Trerian, at fourteen years."). She is one of the few Godkin with wings, a griffin built after cranes and cougars rather than heavier birds of prey.
Physical Description
Edit
Bloodlines (10)
Edit
Phoenix
Puma
Ringtail Cat
Siamese Cat
Previous Campaigns
Edit
Glendallia, a province in the far south.
Ulnight (a bitter campaign that resulted in the disastrous Battle of Kendrick Caves, and the successful second attempt, the Battle at the Undercaves).
Ad blocker interference detected!
Wikia is a free-to-use site that makes money from advertising. We have a modified experience for viewers using ad blockers

Wikia is not accessible if you've made further modifications. Remove the custom ad blocker rule(s) and the page will load as expected.