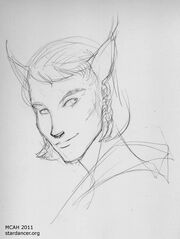 Ajan
nai'
Shuvulnin-
penokedi
is an
Ai-Naidari
Guardian of the
Public Servant caste
, trained by Vekken and pledged to serve
Shame
. This pledge makes him an exception, and it is duly recorded in
the Book of Exceptions
. He accompanied Shame to
the Bleak
and then on to
Qenain
. He's a decade younger than Shame.
General Description
Edit
Physical Description
Edit
Ajan's ribbons, marking his relationship to his master, look like a yoke around his shoulders, leading to a fanged hook-shape below the cleft of his collarbones. They are most unusual.
Related Fiction
Edit
Ad blocker interference detected!
Wikia is a free-to-use site that makes money from advertising. We have a modified experience for viewers using ad blockers

Wikia is not accessible if you've made further modifications. Remove the custom ad blocker rule(s) and the page will load as expected.