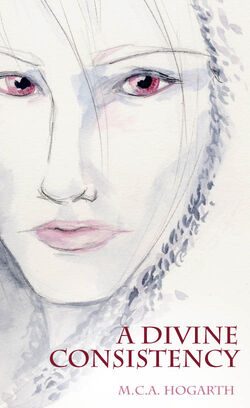 "A Divine Consistency" is a short story in the
Jitesse
setting of the
Other
universe. It was independently published on February 22, 2011.
When the successor to the duke that knighted her demands the return of her sword, armor and horse, Aslinne goes forth to do so, and into peril. Naturally her assassin partner must intervene on her behalf, and with the help of a questing priest save her from dire treachery.
Notable Characters
Edit
Purchase Details
Edit
"A Divine Consistency" is available as a stand-alone e-book, and is also included in the short story collection Blades and Bitter Apples.
| Format | Pgs/Size | Cost | ISBN/ASIN |
| --- | --- | --- | --- |
| E-book (SW/Amazon/B&N) | 49kb | $0.99 | B004OYTBIK |
Ad blocker interference detected!
Wikia is a free-to-use site that makes money from advertising. We have a modified experience for viewers using ad blockers

Wikia is not accessible if you've made further modifications. Remove the custom ad blocker rule(s) and the page will load as expected.